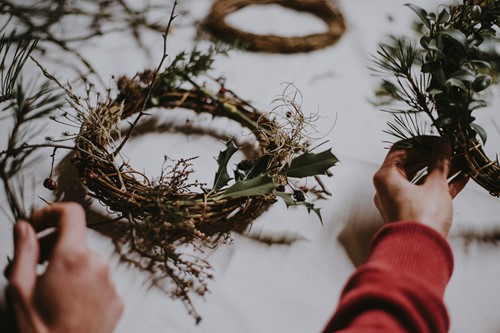 Photo by Annie Spratt on Unsplash

Whether you're looking at selling your home or just want to make it a little more appealing, one easy option to consider is creating a welcome wreath to keep on your front door. This creates a pleasant focal point for your home's entrance, and takes a minimum of investment to make it work. Here's a quick look at how to put one together and keep it current for the seasons.
To start, you'll want to consider the colors you have around your home - not just the trim and siding, but also the landscaping and other environmental factors throughout the year. Though you can find some basic decorative items that will match the current season, consider some items that will match other seasons, such as adding holiday touches around special times of the year, acorns and fall leaves for the autumn, clear pastel tones for spring and bright flowers for summer. Have a love for fishing? Fiber arts? Your home team? Whatever your passion, incorporate it into your wreath as well.
Materials:
A wreath hanger. You can often find one around the holidays that is neutral to the time of year.
An 18" grapevine wreath, or other material that works through the seasons.
Ribbon, cord or other yardage goods that will work with your home's exterior.
Seasonal picks, such as flowers, botanicals or other decor that fits your overall design plan.
Take a look at your wreath and get a feel for how you want it to hang. If it has one area that is specifically heavier than the others, you may want to orient this section towards the bottom, so that it doesn't cause your wreath to drift out of alignment. Take your yardage goods, whether it's ribbon, decorative cord or other material, and wrap it around the wreath several times. For narrower material, you can wrap it more times, while for wider materials, you may want to limit the number of wraps to four or five, so that about two-thirds of the wreath's base material is showing. Tie an attractive bow or tuck the ends into the backside of the wreath. Next, you'll lay out your picks to determine how they'll be placed in the wreath. Once you've determined your layout, you'll push the wire end of the picks into the wreath, trimming off any protruding ends using a wire cutter.
When you're done putting your wreath together, simply hang the wreath hanger at the top of your front door, then hang the wreath on the hanger. As the seasons change, take a few minutes to update the picks and yardage goods that you used on your wreath to match. This allows you to keep your wreath current without a lot of extra pieces kept in storage. If you're improving your home's curb appeal to list your home or if you're looking for a new home, we can help! Please feel free to contact us today to get started.