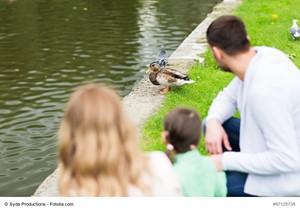 Whether you're looking to buy a house or sell one, a helpful saying to keep in mind is the one about recognizing a duck:
"If it walks like a duck, quacks like a duck, and looks like a duck, then it's a duck!" As silly as that expression may be, there's a lot of wisdom in its message.
The reason it applies to real estate transactions is that people sometimes tend to overlook, justify, and gloss over potential or actual problems that need to be dealt with (and not ignored). Here are some examples, as they relate to home sellers and buyers:
Selling a home: As a home seller, one of the most important things you can do to make your home more appealing and marketable is staging. Not only is it beneficial to apply a fresh coat of paint where needed, but parts of your home may need to be repaired, upgraded, touched up, or cleaned.
One false assumption home sellers sometimes make it that prospective buyers won't notice or care about broken tiles in the bathroom, peeling paint on the front steps, cracks in the ceiling, or mold in the basement. While there are a lot of factors that help sell a house quickly or cause it to linger on the market for months, sometimes it's the little things that can impact the desirability of a house. If there's an imperfection, flaw, or cosmetic problem in your home that you've been noticing for months or years, there's a good chance prospective buyers will take note of it, too.
Whenever you can affordably correct a cosmetic problem in your home or property, it will usually be to your advantage as a home seller. If the problem looks like it could be a potential deal breaker, there's a chance it will be.
When you need an objective opinion on matters such as home staging, curb appeal, or increasing the marketability of your home, an experienced real estate agent is often your best source for advice and guidance.
Buying a home: There are a lot of factors that need to be evaluated when searching for your ideal home. While optimism is an essential state of mind to cultivate when you're navigating the sometimes bumpy road of house hunting, it's also important to balance that positive attitude with a drop of caution and skepticism. If you get too caught up in the excitement of buying a new house, you might miss red flags along the way that could lead to future problems or expenses.
By hiring a reputable property inspector to check everything in the house from structural integrity to the condition of mechanical systems, you can be alerted to potential safety hazards, possible water damage, malfunctioning electrical circuitry, and dozens of other issues that need to be identified, and hopefully resolved, before you become the new owner of a house.