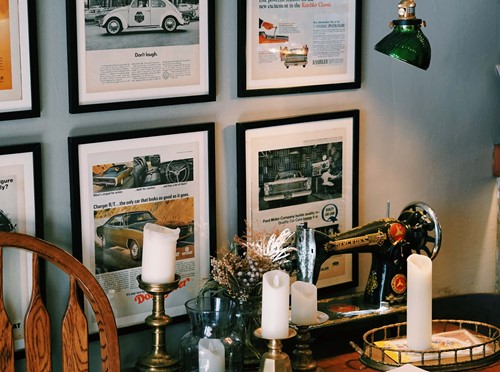 Your collectibles are important to you, but all too often they tend to be tucked away in a closet attic, or the basement. Why hide all of the things that you spent so much time and care collecting? Instead, find ways to incorporate them into your existing decor so that your house guests can see your amazing hobby, and you can enjoy your collectibles every day. Check out some of the tips below to help you get started.
Display Collectible Posters Like an Art Gallery
Turn the high traffic areas in your home into an art gallery by framing your collectible posters as art and displaying them on the walls. Hallways and stairwells make the perfect place to add in this decor without interfering with the other decoration in your various rooms.
Repurpose Your Collectibles
Does your passion extend to collecting tins, baskets, or maybe a small vintage wagon? These items can easily be given a new life and purpose by adding a potted plant or flowers to them. If your container is larger, you could also use it to hold blankets or other items you wish to keep off the floor and out of the way.
Give Your Lamps New Height with Your Collectible Books
If you have some great old books that have that vintage look and smell, there is no reason to hide them on a bookshelf. Carefully stack them so that the spines are visible to guests and use them as a stand for a light fixture or other decorative item. Just make sure to avoid anything that might drip water, such as a plant, so you don't destroy the book.
Use Heavier Collectibles for Bookends
For collectors that have heavier or metal items, you can easily swap out a traditional bookend on your shelf for your collectible piece. This will help keep it out f the way while allowing it to have an additional purpose, keeping your books in line.
Frame Thinner Collectibles & Hang on Display
If you collect items such as stamps, matchbooks, or even rare albums, you can mount them into a frame and display them on the wall. This will allow you to show your guests your amazing collection while still proving it with protection against dust and dirt. If you have light-sensitive documents, such as old letters, you can find frame glass to help better keep them preserved.
Don't let your collectibles waste away in a box or tub where no one can enjoy them. Follow the simple tips above to help you incorporate them into your decor, where they can be enjoyed by all.